The Corporate Governance Diploma qualification gives one the skills and knowledge needed to advise decision-making authorities on matters pertaining governance, which affect private, voluntary, and public sector organizations.
The Level-6 Diploma qualification, will enable individuals to understand and interpret the frameworks underlying corporate governance law to support the development of good governance practices and effective stakeholder dialogue throughout an organization, while remaining aware of legal obligations and best practice.
Students who successfully complete the Diploma in Corporate Governance will also gain in-depth knowledge and understanding of the various aspect of a corporate Structure within the organizational context.
The course takes the learner on a journey of structure at the top levels, the laws that will shape that structure, Ethical considerations involved in organizational decision making, a sense of corporate responsibilities toward the society and environment, The structure and processes through which the financial information within an organization is generated, accumulated and distributed, and the leadership qualities that are necessary for a best of good governance to be carried out in any organization in an ethical, law-abiding and profiting way possible.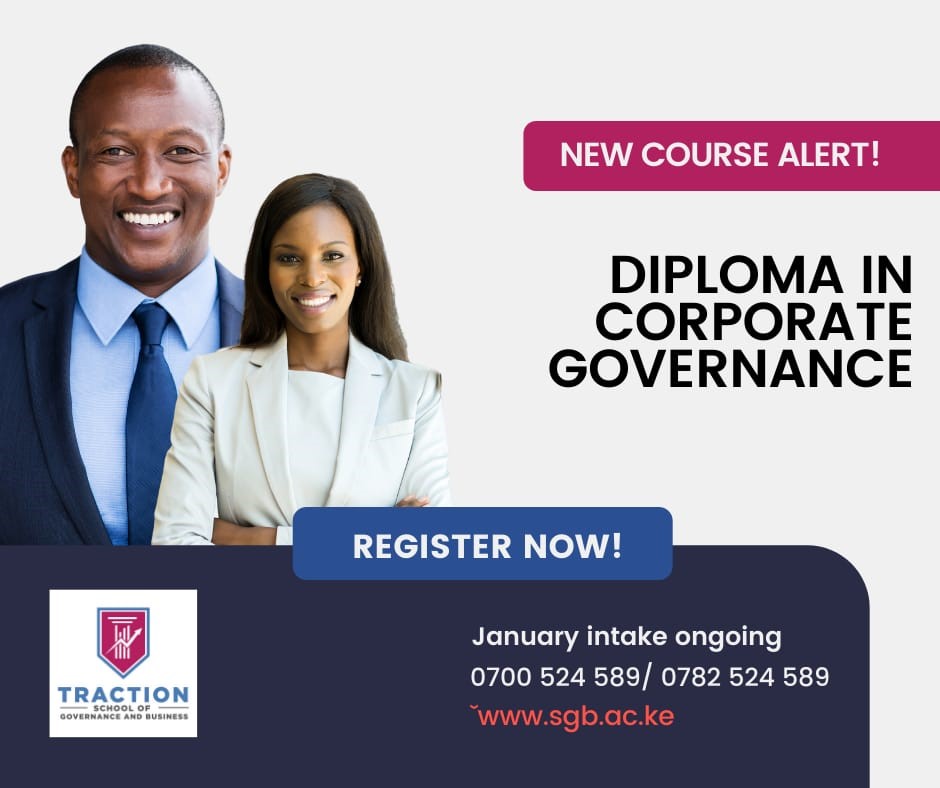 Entry requirements
KCSE: C-, and
Equivalent qualifications as determined by Kenya National Qualifications Authority (KNQA).
This certificate is also curated for those working as governance professionals, but in particular those in a company secretarial-related role or as part of a governance team, or in a legal or accountancy role with governance duties.
Some of the job roles include:
Company secretary/assistant or deputy company secretary
Company secretarial assistant
Governance, risk or compliance manager/officer
Lawyer or accountant with governance responsibilities
This course covers:
General principles of corporate governance
Legal and regulatory aspects of corporate governance
Reporting to shareholders and external audit
Directors governance duties
Gender mainstreaming and integration practices
providing strategic leadership
Corporate Social Responsibility
Relations with shareholders
Codes of and reports on corporate governance
Application of governance rules and principles
Role of the company secretary
The board of directors/board of governors
Remuneration of directors and senior executives
Risk management and internal control
Corporate social responsibility and sustainability.
Fees

Students for this qualification pay a single one-off fee, which covers the cost of the study and a single exam registration.
Registration
Are you ready to start the Diploma in Corporate Governance?
If you have any questions, or would like to speak to someone about this qualification, please contact us on: 0700 524 589/ 0782 524 589